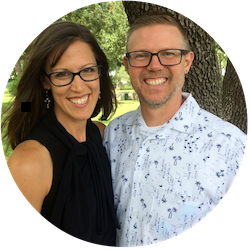 Can you relate to stress and anxiety in a constantly changing world? Do God's promises of peace and joy still apply in the world today? How can you find real peace, grace, and Jesus in the midst of the chaos?
My guests on today's program are Steve and Jamie Wiechman, founders of Breathe Life Ministries. They got married in 1998 and have four children. They have traveled through many peaks and valleys, physically, emotionally, and spiritually. They bring answers and insights to the questions around stress and pain from a place of deep personal experience. 
Steve began ministry as a youth minister in Houston, TX and has served in pastoral ministry in four different churches in Texas. Jamie, after 10 years in the trenches as a pastor's wife and home educator, obtained an Advanced Counseling Certificate through the Townsend Institute at Concordia University – Irvine, CA. God has captured their hearts for sharing the freedom of the Gospel with Christian leaders and their families. 
Steve currently serves as the Director of Strategy and Operations for Breath Life Ministries. Jamie currently serves as the Director of Ministry and Programs.
Learn more about Steve and Jamie and their ministry at BreatheLifeToday.com.
Helpful Book: Untangling Emotions by Groves and Smith
Blog: The Missing Connection to Healing
More Related Episodes:
----------
Please rate and review our podcast: Apple Podcasts
Subscribe to our YouTube channel.